From hull shape files and general layout plan, our calculation and drawing tools allow us to design a set «hull plating/ internal structure» the most efficient. General design and structural validation are done directly in 3D. All results are then recorded in construction plans that can be directly exploited in the shipyard workshop.
The loads specifically related to the mast (mast compression, rig traction, general balance of the ship) and sails are studied by our calculation tools dedicated to this type of analysis and validated for more than 30 years. The particular case of catamarans is considered to its full extent: rigidity of the central platform, torsion between the two hulls, slamming phenomena on forward cross-deck area.
The result:  Maximum reliability of the structure and a hull whose weight estimate and raw materials are perfectly controlled before construction.
Our speciality: composite materials: glass or carbon whatever the way of construction: Pre-preg or infusion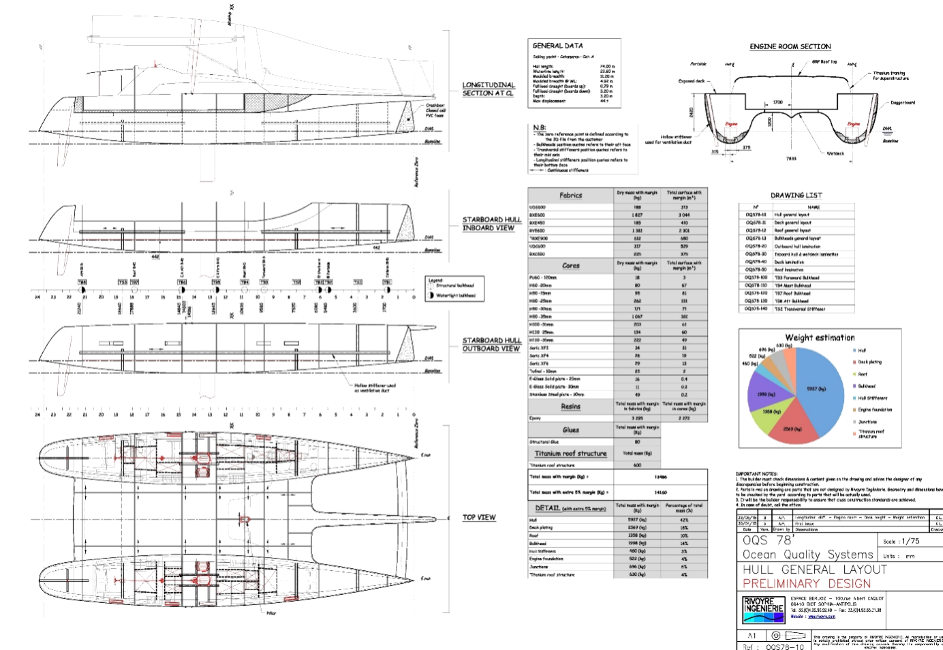 OE 72'
RUIYING 110'
ALIBI 55' & 64'
NAUTITEC 482
SUNREEF 88' 80' 82' 74'
ALLURE 95'
CARTOUCHE 90'
NAHEMA 120'
COCKAIGNE 65'
OQS 60'
LEVANTE 80'
YOUNG 55'
CATANA PHC
TAG 50
CHE 115'
IPHARA 110'
ISARA 45'
HOUBARRA 80'
CATLANTE 600 & 720
FOUNTAINE-PAJOT ALEGRIA 67'
ITA 14.99
RC 50'
SUNREEF 50, 60, 70 & 80
…
CNB 66'
TRIPP 58'
ANT ARTIC LAB 60
SOLUNE 60'
P2 125'
CHRISCO 100'
SIGMA 76m
VERTIGO 220'
BLUE DIAMOND 100'
SHAMLOR 65'
JPS 45'
ERYD 32 9.5m
ZURBAGAN 100'
J/45
…