From hull shape files and general layout plan, our calculation and drawing tools allow us to design a set «hull plating/ internal structure» the most efficient. General design and structural validation are done directly in 3D. All results are then recorded in construction plans that can be directly exploited in the shipyard workshop.
The loads specifically related to the mast (mast compression, rig traction, general balance of the ship) and sails are studied by our calculation tools dedicated to this type of analysis and validated for more than 30 years. The particular case of catamarans is considered to its full extent: rigidity of the central platform, torsion between the two hulls, slamming phenomena on forward cross-deck area.
The result:  Maximum reliability of the structure and a hull whose weight estimate and raw materials are perfectly controlled before construction.
Our speciality: composite materials: glass or carbon whatever the way of construction: Pre-preg or infusion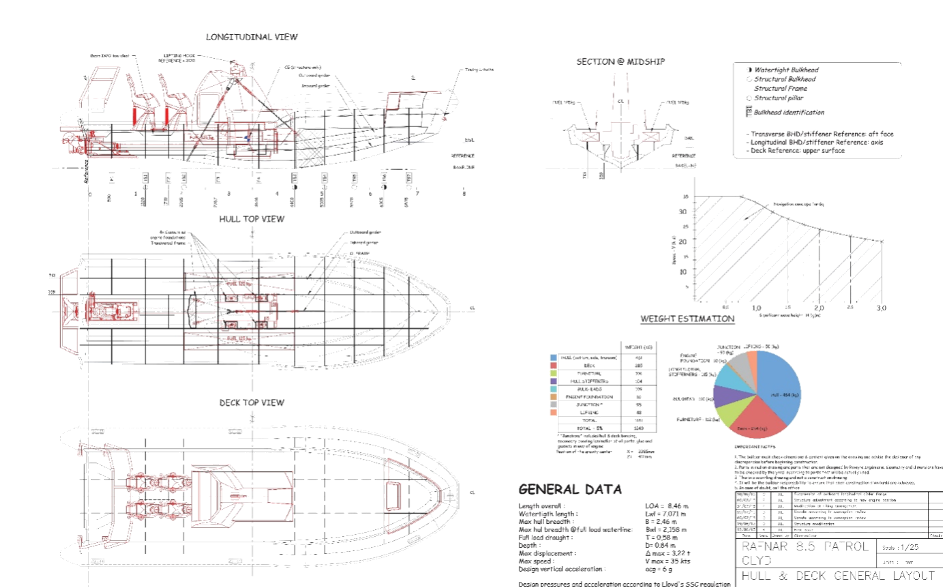 GALAXY 53m
COUACH 50m
LA PELLEGRINA
SUNPOWER 70'
CARTOUCHE 28m OPEN
ISIS 100'
BRADLEY 80'
COUACH 44m
OCEAN-EAGLE 43m
MY 96' CECILOU
SUNREEF 60P, 70P
CARTOUCHE
COUACH 45m
SUNREEF 80P
SUNREEF 49m
SUNREEF 100'
….
AL SEER 46'
PALMER JOHNSON 63'
VSP 35'
PATROL 13m COUACH
TENDER BYD 11m
TENDER BOAT 47'
PATROL 17m COUACH
FIBER-TECH PATROL 12m
PATROL 26.5m VERHAAREN
INTERCEPTOR 15m CMN
IGUANA 35'
POWER BOAT 8.5m CLYD
MED 48'
E1GP
SUNREEF 40'
PALMER-JOHNSON 66' BUGATTI
FIBER-TECH PATROL 12m
MED 42'
…